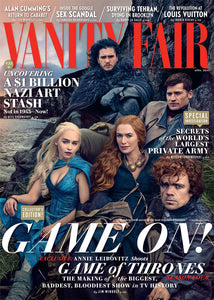 Vanity Fair 1 Year (12 Issues) Subscription
Nobody knows more about star power than VANITY FAIR. Each issue brings you high-profile interviews, breathtaking photography, and thought-provoking features on the world's most engaging people, places and personalities. Plus, you'll also receive must-see special issues like the Hollywood issue and the Best-Dressed issue. VANITY FAIR sparks the global conversation about the people and ideas that matter most.
Vanity Fair magazine is one of the leading general interest publications available today. Written for the reader who appreciates expert storytelling and dynamic articles that sometimes spark a debate, the periodical covers a wide range of topics such as fashion, politics, travel, business, design, and more. Originally published briefly in 1913 and combined with Vogue magazine in 1936, the magazine as it appears today was revived in 1983.

Vanity Fair magazine attracts many award-winning journalists and photographers who contribute articles on a regular basis. The publication prides itself on featuring sophisticated content with bold photos that enhance what each author strives to convey. Recent topics include lavish holiday gifts for pets, fashion knockoffs, similarities between American and British humor, a look inside the New York City Ballet, and a guide to Cannes and the French Riviera.

Vanity Fair magazine is well-known for its social commentary and in-depth reporting. If you enjoy keeping up with Hollywood stars like Kristen Stewart, Julia Roberts, and Alec Baldwin, then this is the publication to turn to. Many times, it's Vanity Fair that scoops the competition and publishes a story before anyone else. Controversial topics from past issues include the scandalous photo shoot featuring Miley Cyrus, the Roman Polanski libel case, and the 2006 Lindsay Lohan interview in which the actress openly admitted using drugs.

First issues typically arrives within 4-6 weeks of subscribing, sometimes earlier.
---
We Also Recommend