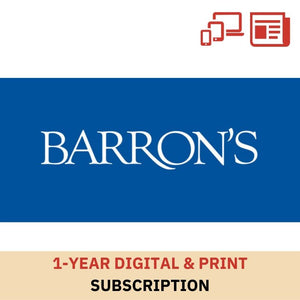 Barron's Newspaper (Print & Digital) 1-Year Subscription
Barron's 1-Year (Print & Digital) Subscription. Print subscription to Barron's will begin within 2-3 weeks of purchase.  Your Digital subscription info will be sent to you via email on your start date. Valid for both new and renewal subscriptions.
Your Print & Digital subscription includes:
Full access to Barrons.com and Baron's Smartphone & Tablet app

Weekly Saturday Home Delivery: Start planning for the week ahead
Exclusive coverage and investing analysis that moves markets
Real-time commentary and fresh investing ideas, every trading day
60 Day Money-Back Guarantee
You will never an auto-renewal receive a bill from Barron's
For Gift Subscriptions, Provide Intended Shipping Address Upon Checkout
Barron's
 is the premier magazine for market analysis and commentary, renowned for its market-moving stories. Published by Dow Jones & Company since 1921, it provides readers with a comprehensive weekly review of the market's recent activity, coupled with in-depth, sophisticated reports on what's likely to happen in the market in the days and weeks to come. Barron's delivers ideas and insights that active investors use to profitably manage their portfolios.
---
We Also Recommend