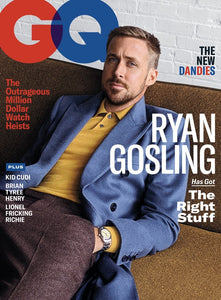 GQ 1 Year (10 Issues) Subscription
First issues typically arrives within 4-6 weeks of subscribing, sometimes earlier.
GQ helps you look sharp and live smart. Each issue brings you revealing sports profiles, intimate photos of today's hottest up & coming actresses and models, tips on fine food & drink, sex, politics, fashion and grooming advice, The Style Guy's answers to your questions and so much more!
Men enjoy reading about the best styles and hottest up-and-coming trends, so you'll love delving into GQ magazine to get your fix. Each issue provides something for every man, from sports to photos of models, so you can enjoy reading all about the current world.

GQ magazine offers tips on fine food and drinks, so you can show off your knowledge the next time you head out to a restaurant or bar with a date, and the advice on fashion and grooming will have you looking good. With columns dedicated to answering questions about sex, style, and more, you'll be ahead of the game in the world of romance.

If you enjoy sports, the revealing sports profiles are sure to be up your alley. The profiles of athletes give you insider information on the most popular players in sports today, so you can know everything about your favorites.

With information on current events and politics, GQ magazine also gives you up-to-date knowledge on the world. From the Presidential decisions to local government, the interesting articles are sure to give you a heads-up for the trends in current policies.

Whether you're headed out on the town for a date or just want some light reading, GQ magazine provides information about everything a guy like you wants to know. With photos of models, profiles on famous sports athletes, style advice, and more, this GQ magazine keeps you current, so you can feel secure and educated in any situation.
---
We Also Recommend